BETTER HURRY!  ONLY FOUR DAYS LEFT TO GET THE REGISTRATION DISCOUNT AND A FREE BAG! 
We have some really special events included this year for the first time.
- For the pre-con event at the Kentucky History Center in Frankfort on Thursday evening September 7, Debra Renard, a DNA EXPERT will speak on what you might hope to learn from a DNA TEST.
- Friday, a brief business meeting and all day is packed with interesting information and networking time, family exhibits, silent auction, and that evening the keynote dinner speaker we all love, Vince Akers.
- Saturday, our excursion event will be to the Painted Stone Settlers reenactment of the Dutch involvement in the Long Run Massacre, and the evening keynote speaker/entertainer is Eddie Price, author of "Widder's Landing"
- Sunday we return to the Old Mud Meetinghouse at Harrodsburg to participate in an 1800s style Reformed Dutch Service led by Russell Gasero. Archivist of the Reformed Church in America,in New Brunswick, NJ. He will be ably assisted by several of our own Dutch Cousins. (more about that soon)
- And all during the event our photographer Charlie Westerfield will be cranking away with the memorable photos of us all having a great time!
- Go to our official website to download the registration blank and newsletter and more complete information. www.DutchCousins.org
- If you prefer the clickable registration form or have questions send me an email: carolynleonard (at) me.com
SEE YOU IN FRANKFORT IN SEPTEMBER!
carolyn
—————————————————————————————————————
THE LOW DUTCH COUSINS ARE COMING TO FRANKFORT September  8-10,  2017.   Put it on your calendar now.
We will have special rates at CAPITAL PLAZA HOTEL - We loved it last time. 405 Wilkinson Blvd, Frankfort, Ky  Better call soon - only 30 rooms in our block.  502-227-5100  BE SURE TO GIVE THE GROUP CODE:  Dutch Cousins 2389
Our Treasurer Janice Cozine of Kentucky and the 2017 Gathering Coordinator Mr. Lynn Rogers of Ohio (and me - Oklahoma) are working out the details.  It will be memorable - we can guarantee you that!
—————————————————————————————————————
SENT BY: Tamara Fulkerson (VP nominee for Dutch Cousins)
The Library of Congress opened its catalogs to the world. Here's why it matters — The Conversation
"The Library of Congress opened its catalogs to the world. Here's why it matters" —
—————————————————————————————————————
SENT BY: Carolyn Leonard
To make a tax deductible donation for restoration and maintenance of the Old Mud Meetinghouse, in the "note" line say, In memory of ____________________, for restoration and maintenance of Old Mud, credit to the Dutch Cousins.
Send check or money order to:
Harrodsburg Historical Society
220 South Chiles Street
Harrodsburg, KY 40330
—————————————————————————————————————
SENT BY: Charlotte Legg Olson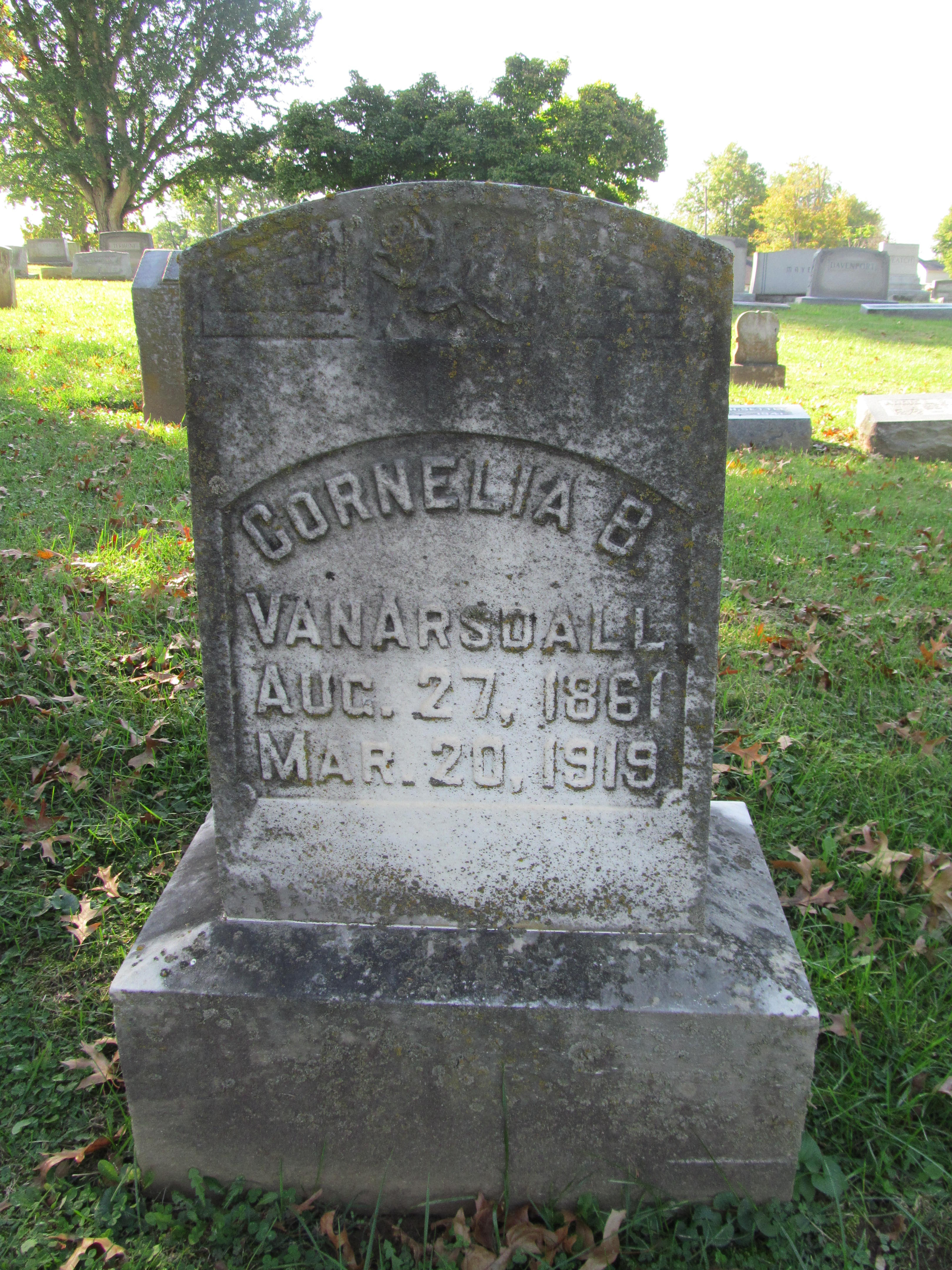 Cornelia B. VanArsdall, August 27, 1861 - March 20, 1919.  Spring Hill Cemetery, Harrodsburg, Mercer County, Kentucky.
from The Harrodsburg Herald, Mercer County, Kentucky
Friday, March 28, 1919
VANARSDALL
Thursday night, after several weeks of suffering from a complication of diseases, death laid his hand upon Miss Cornelia VanArsdall at her home on  College Street in this city. She had been for a long time a member of the Christian church and had lived faithfully according to the Master's teaching. She was of a retiring disposition, a woman who loved her home and her friends, big hearted, hospitable and thoughtful of others, and she will be greatly missed by those nearest and dearest with whom she was content to spend her life. The funeral service was held at her home Saturday afternoon at 2:30 o'clock, conducted by her pastor, Rev. E. B. Bourland, assisted by Rev. M. S. Clark, of the Methodist church and she was laid to rest in the family lot in Spring Hill Cemetery beneath a wealth of flowers, sent by sympathetic friends of the family. None will miss her more sadly than the mother whom she leaves, whose constant companion she has been. The brothers and sisters who survive are Messrs. J. F., John I., Muscoe, E. Buford and D. P. VanArsdall, all of this city; Mrs. Thomas VanArsdall, Mrs. Abe Sharp and Mrs. Margaret Owens, of Wichita, Kansas; Mrs. J. B. Anderson, of Chanute, Kansas, and Miss Minnie VanArsdall, of this place.
—————————————————————————————————————
SENT BY: Dennis Gudorf (DeMotte ancestry)
Susan and I had our DNS done via Ancestry.com  Have found some folks for us that way.  My family tree is posted on Ancestry.com as the Gudorf Family tree and Susan's family tree.  You might take a look.
Do we need to make a reservation if we are able to make your September gathering?
Denny Gudorf
Yes you do!  I am attaching a clickable online registration form. — and you are just in time to make the early discount.  The registration form is also available on our website, www.DutchCousins.org.
Hoping to see you September 7th!
blessings, carolyn
—————————————————————————————————————
SENT BY: carolyn from  lisa louise cooke's Genealogy Gems newsletter
For all our Texas folks, good seminar coming up in Dallas!
Join the Genealogy Gems Expert Team for Sources, Storytelling, & DNA
The Dallas Genealogical Society 2017 Summer Seminar is fast approaching on August 4-5, and will feature the entire Genealogy Gems Team! Join us for two fun-filled days devoted to Sources, Storytelling & DNA! Sunny Morton and Diahan Southard will join Lisa Louise Cooke in her own "backyard" of Dallas, Texas at the Dallas Central Library. Registration is still available!